"

Merc gear. Better keep moving, nobody hires just one bounty hunter.

— Sarah, outside Cobalt Station

"
Amped R-97 is a Burn Card featured in Titanfall, which replaces the player's weapon with a more lethal R-97 Compact SMG equipped with the HCOG optic. Each round does 10 extra damage.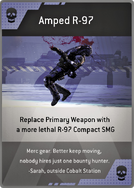 | Damage | Close Range | Long Range |
| --- | --- | --- |
| Factory Default | 40 | 30 |
| Amped | 50 | 40 |