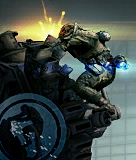 "Brain Surgeon" is a Mobility Kills Challenge in Titanfall.
Titan kill will only count if titan explodes with last damage received from pilot performing rodeo. Dooming titan is not enough.
It is best to do this using the Spitfire LMG with the Slammer attachment.
It is also good to do this with the R-97 SMG with the Scatterfire attachment and the Fast Reload Pilot Kit.
Challenges
Name
Requirement
Reward
Brain Surgeon [I]
Destroy 1 Titan by Rodeo.
500XP
Brain Surgeon [II]
Destroy 5 Titans by Rodeo.
1,000XP
Brain Surgeon [III]
Destroy 15 Titans by Rodeo.
2,500XP
Titan Salvage
Brain Surgeon [IV]
Destroy 30 Titans by Rodeo.
5,000XP
Titan Salvage
Brain Surgeon [V]
Destroy 50 Titans by Rodeo.
10,000XP
Titan Salvage
Ad blocker interference detected!
Wikia is a free-to-use site that makes money from advertising. We have a modified experience for viewers using ad blockers

Wikia is not accessible if you've made further modifications. Remove the custom ad blocker rule(s) and the page will load as expected.