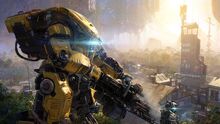 Colony Reborn is the third DLC available for Titanfall 2. It was first teased on January 27th, 2017[1] and released on March 30th, 2017. Like Angel City's Most Wanted, it contained a remake of a map from Titanfall, a new weapon, two Prime Titans and other miscellaneous content.
New Content (Free)
Edit
New Content (Paid)
Edit
New Prime Titans
Titan Art Packs: One pack per Titan, includes five new Nose Arts and an exclusive War Paint skin.
Callsign Pack: Includes instant access to 20 new and exclusive Callsign Banners and 10 Callsign patches. (See here for a list of new callsigns)
References
Edit
Ad blocker interference detected!
Wikia is a free-to-use site that makes money from advertising. We have a modified experience for viewers using ad blockers

Wikia is not accessible if you've made further modifications. Remove the custom ad blocker rule(s) and the page will load as expected.