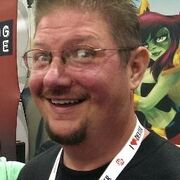 Dave B. Mitchell (born July 25, 1969) is an American voice actor and musician. Since he first began his professional voiceover career in 1997, his voice has appeared in hundreds of projects in film, television, animation, video games, audio books, and on the Internet. Mitchell was the recipient of a 2004 Videographer Award of Excellence for an episode of the internet-based soap opera City's Edge, and in 2005 he scored the independent film Orthogenesis for his work as a composer. He provided the voice of Cheng "Bish" Lorck in Titanfall.
Ad blocker interference detected!
Wikia is a free-to-use site that makes money from advertising. We have a modified experience for viewers using ad blockers

Wikia is not accessible if you've made further modifications. Remove the custom ad blocker rule(s) and the page will load as expected.