This article is about the Titanfall 2 character, and may redirect here. For the minor Titanfall character, see Captain Droz.
| | | |
| --- | --- | --- |
| " | | " |
Droz was formerly a Pilot working for The 6-4. He appears to be a Pulse Blade pilot, though - like Gates and Davis - he utilises a helmet worn by Militia pilots in the first Titanfall. He is currently leading The Last Resort, along with Davis.
 Titanfall 2
Edit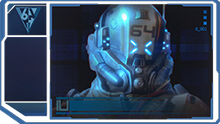 Droz first appears in the mission The Ark, along with three other members of the 6-4. He along with Bear, Davis, and Gates assist Pilot Cooper in the hijacking of the IMS Malta.
After clearing the bridge with the help of the others, he and the 6-4 provide cover fire during Cooper's battle with Viper. They maintain control of the Malta and use it to prevent reinforcements from surrounding Cooper. 
More recently Droz has been featured in Operation: Frontier Shield as part of the faction The Last Resort, along with Davis. After achieving victory, Droz mentions the fact that they have both left the 6-4.
in Frontier Defense, Droz has a patch bearing the emblem of The Last Resort on his Helmet, replacing that of the 6-4 due to his departure from the latter mercenary group.

Members of the 6-4