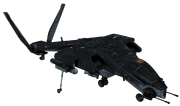 Phantoms are vehicles within the universe of Titanfall. They are single-seat jump-capable fighters designed for both atmospheric and exo-atmospheric combat. Originally codenamed "Straton", the Phantom project was started after the Titan Wars ended. The new fighter was intended to serve all branches of the IMC Armed Services in a standardized fashion. Cost overruns, lack of focus, and politics interfered with the development of the new fighter, resulting in an expensive-to-maintain fighter craft that is barely on par with the Hornet-class fighter it was meant to replace.[1]
Phantoms can be seen in multiple multiplayer maps, such as Airbase.
The text visible on the tail boom of the Phantom spells out MK-A116
The Phantom has features implemented of the Harrier and components inspired by the AH-64 Apache helicopter
The Phantom appears to be the IMC's counterpart to the Hornet that is mainly used by the Militia.
The Phantom is capable of carrying under-slung cargo and can be seen to in the IMC Mission on Colony. The Phantoms are seen carrying Spectre racks into battle. 
References
Edit
↑ Intel section of the Titanfall Companion app
Ad blocker interference detected!
Wikia is a free-to-use site that makes money from advertising. We have a modified experience for viewers using ad blockers

Wikia is not accessible if you've made further modifications. Remove the custom ad blocker rule(s) and the page will load as expected.