Captain
Tai Lastimosa
[1]
is a character in
Titanfall 2
. Hailing from the Frontier planet
Harmony
, he was linked to Vanguard-Class Titan
BT-7274
for 973 days before transferring control to Rifleman
Jack Cooper
, whom he mentored. He is likely the namesake of the
Lastimosa Armory
.
Biography
Edit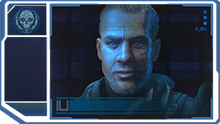 Lastimosa was a member of the highly regarded SRS force within the militia. He saw potential in Rifleman Jack Cooper to be a pilot, and took it upon himself to mentor him. Aboard the vessel MCS James MacAllan, Lastimosa trained Cooper in a simpod on how to use a Pilot's kit. However, the training was interrupted as the vessel came under attack over the planet Typhon. The crew evacuated to the surface, where Lastimosa saved Cooper from Apex Predator Titans. However, he was badly injured by Kuben Blisk's Titan. Lastimosa transferred control of BT to Cooper before dying of his injuries. Cooper gives Tai a proper burial before meeting BT.
It is likely that he is named after Ryan Lastimosa, the lead artist at Respawn Entertainment.
Lastimosa's uniform - notably the helmet - appears to be inspired by the Militia Battle Rifle Pilot from Titanfall
Given Cooper's narration and appearance as a Militia Rifleman in the Titanfall 2 Single Player Cinematic Trailer/ opening cutscene, it is possible that the Pilot that features prominently in the cinematic is in fact Lastimosa before the Battle of Typhon.
References
Edit
↑ Titanfall 2 EXCLUSIVE Single Player GAMEPLAY Footage! - retrieved August 11, 2016
Ad blocker interference detected!
Wikia is a free-to-use site that makes money from advertising. We have a modified experience for viewers using ad blockers

Wikia is not accessible if you've made further modifications. Remove the custom ad blocker rule(s) and the page will load as expected.