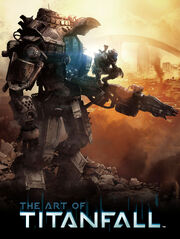 The Art of Titanfall is a 192-page book with a collection of artwork and concept art through all stages of the production of Titanfall by Andy McVittie; most commonly known for his work in video game media. It was published by Titan Books on February 25, 2014.
It consists of artwork and concept art collections of the weapons, vehicles, characters, creatures, locations and more that revolves around the universe of Titanfall.
Ad blocker interference detected!
Wikia is a free-to-use site that makes money from advertising. We have a modified experience for viewers using ad blockers

Wikia is not accessible if you've made further modifications. Remove the custom ad blocker rule(s) and the page will load as expected.