Welcome to the Titanfall Wiki — the most comprehensible, informational, online encyclopedia that revolves around the universe of Respawn Entertainment's first-person mecha shooter franchise, Titanfall. Maintained by fans and players, the Titanfall Wiki has over 1,491 articles combined by 35,029 edits since June 7, 2013, and you can help!
Featured Article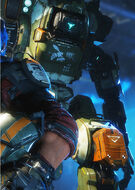 BT-7274, also known simply as BT, is the Titan deuteragonist of Titanfall 2's single-player campaign.
He is a veteran Vanguard-class Titan whose Pilot was killed-in-action. He is now linked to Frontier Militia rifleman Jack Cooper against the wishes of command. The two form a bond and work together against overwhelming odds to uphold a mission they were never meant to carry out.
User Blogs and News

| | | |
| --- | --- | --- |
| News Blogs | | Community Blogs |
Featured Videos

Featured Poll

What platform are you getting Titanfall 2 on?
Did You Know...

...that the helmet design of the Pilots were loosely inspired by the Star Wars character Boba Fett?
...that on Relic, inside a building, there is a small model of the mythological creature the Loch Ness Monster inside a toilet?
...that the character Robert "Barker" Taube's name is a reference to Titanfall artist Robert Taube?
...that the voice of Sarah is provided by Respawn Entertainment's Community Manager, Abbie Heppe?
...that on Angel City, one of the posters has a QR code on it which scans to Titanfall.com?
Community Links

---
---
---
---
---